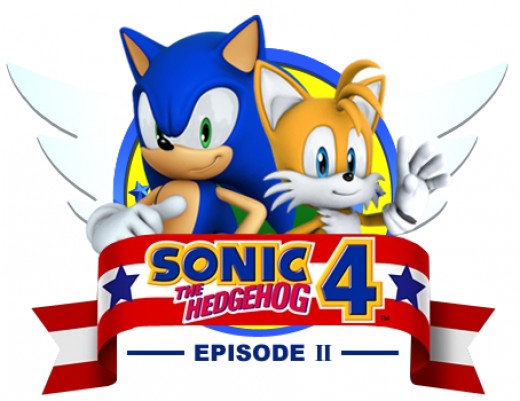 I'm sure people are getting tired of my Sonic reviews, but I suppose just the amount of releases and events dealing with it lately have made it seem like a lot. Anyway, Sonic 4: Episode 2 released on PSN today and I looked forward to it seeing as I enjoyed most of Episode 1, though that game has several issues. Episode 2 follows up after Sonic has defeated Dr. Eggman once again in Episode 1 and now he and Tails must go after the Doctor once again to thwart whatever evil plan he's cooked up this time. With rings in hand, will Sonic and Tails stop Eggman?
Story
:
It's your typical Sonic fare, really. "Eggman is being evil again… stop him" And you're off. There's not much else to it than that. Seeing as they were going for the simple formula of the older sonic games, I can't really gripe about it. One thing I will say though, is that Episode 2 tries to integrate some story based around Metal Sonic in the game, which is nice. Since it happens after Sonic 3 & Knuckles, it explains a bit about what happened to Metal Sonic. Add on top of that the 4-act Metal Sonic Episode (If you have both Episode 1 and 2) and you get a basic idea of how Eggman brings Metal Sonic back to life to fight once again.
Graphics
:
When they said they used a new graphics engine for the game, Sonic Team weren't lying. The game looks quite a bit better than Episode 1, and Sonic actually looks like himself. Tails fits well alongside his blue partner as they both speed through the various stages. The stages themselves look quite good and I noticed no slowdown or anything while playing. It might seem like a new paint job, but it really is a different look to the game since Episode 1.
Gameplay
:
Here is where we get to the nitty-gritty of things. I know most players of Episode 1 want to know how this game feels in comparison. Since I have played both, as well as played the first recently just to get into the swing of things again, I can say that Episode 2 plays much nicer than its predecessor. The same "air-dash" momentum mechanic is around as it was in Episode 1, but it works better this time around. Sonic speeds downhill well and his spindash doesn't feel as weak as it had previously. Mind you this is still technically a "Modern Sonic" game, so it doesn't fully feel like the Genesis games, or even Classic Sonic in Sonic Generations, but for the game itself, it works very well. Far better than Episode 1.
Outside of that, you now have Tails around to help you navigate and fight. Unfortunately, you can neither play the game as just Sonic or Tails alone simply because you need both of them to finish stages at times. There IS however Co-op with tails, so you and a friend can hop on and enjoy the fun. Sega has talked about the possibility of putting out a patch to make Tails an option as the lead character, but outside of that, you're stuck with both of them. This is not a bad thing though, since Tails can help you make it to high ledges, kill tons of enemies, or just make things easier on you in general. They've added Combo Skills in Episode 2 where Sonic and Tails join together to perform some task or another. You can get him to help you fly, zip through the water, or roll through waves of enemies. All of these come in handy especially if you notice yourself falling to your death. We also see the return of the Special Stage, this time it's A la the Sonic 2 Half-pipe type. It's challenging, but still fun to play. Better get those chaos emeralds. The Red Star Rings also make a return in this game. There's a single one in each act, so unlike Sonic Generations you don't have 5 to get per act. Finding them all is tricky, but if you're a completionist, it should add to the replay value of the game.
Music
:
Along the same lines as Episode 1, Episode 2 takes a more retro look at the music. While it's not exactly Genesis-type music, it's certainly not something updated to more modern electronic sounds. It harkens back to the olden days of the series without using 16-bit quality sounds. I, personally, like the throwback feel to the soundtrack, but I'll share a few example songs below.
Sylvania Castle Zone – Act 1
Link:
https://www.youtube.com/watch?v=GsM4hnD5JoQ
- As you can see, it's definitely more old-school style music. I think it's a good tune, though it's not the strongest.
Sylvania Castle Zone – Act 3
Link:
https://www.youtube.com/watch?v=NqwYDbyQ2bg
- A better track to me, and yet it's part of the same zone. Interesting how they can change it that much for each act.
Boss Battle – Vs. Dr. Eggman
Link:
https://www.youtube.com/watch?v=cWaMaheZx04
- It's a remix of the original Episode 1 boss theme which I was never too fond of only because it's so short and repetitive. Otherwise, not too bad.
White Park Zone – Act 1
Link:
https://www.youtube.com/watch?v=PFjJayzc3k8
- Have you had your sweets today? If not, here's a jingly little tune to give you diabetes.
White Park Zone – Act 2
Link:
https://www.youtube.com/watch?v=FQPg9kcjUR0
- Less jingly, but still super sweet.
Boss – Vs. Metal Sonic
Link:
https://www.youtube.com/watch?v=Z2JdZT7zJ-I
- Better make sure you pay attention in this battle. Metal Sonic is rather cruel.
Oil Desert Zone – Act 1
Link:
https://www.youtube.com/watch?v=iICVAUHy0Ek
- I like the flow of this track, and actually of this area. Seeing as it's reminiscent of Oil Ocean Zone, it has the same kind of feel.
Oil Desert Zone – Act 2
Link:
https://www.youtube.com/watch?v=_PFliss60lU
- An interesting intro to this one, but the rest of the song is pretty good.
Sky Fortress Zone – Act 1
Link:
https://www.youtube.com/watch?v=D36JW0GTP6s
- You should feel like you're among the clouds… right before you fall to your death.
Sky Fortress Zone – Act 2
Link:
https://www.youtube.com/watch?v=25NvVyNWx3A
- Definitely a feel change in this one. Things just got serious.
Death Egg Mk. II – Act 1
Link:
https://www.youtube.com/watch?v=5bSROlWwPxs
- Welcome to the Death Egg, now new and improved with some pretty good music.
Boss – Vs. Metal Sonic (Race) – Stardust Speedway (Jp – Bad Future)
Link:
https://www.youtube.com/watch?v=_NglF07tfWc
- You didn't think a game that had Metal Sonic would get away without having the Stardust Speedway theme, did you? I actually like this one. It fits the style of the game.
Death Egg Mk. II – Final Boss
Link:
https://www.youtube.com/watch?v=alMIvJD0sgc
- I have to say one thing for the boss music here, it fits quite well, and I have to give Sonic Team some points for making a genuinely good final boss battle.
Overall, I like what they were going for with the music, but I do see why it wouldn't be for everyone. In these days of orchestrated masterpieces and people wanting either fully retro sound or more modern sound, it may not gel with you.
Conclusion
:
Sonic 4: Episode 2 is much improved over its previous entry in the series, and for that, I thank the developers for listening to the fans. I think this episode was really headed more by Sonic Team than Dimps (who was the forefront of Episode 1), which explains why it's an improvement as well. It's not perfect, and there are plenty of areas to die, but that's always been a part of the Sonic franchise. It's a very trial-and-error sort of thing that has been going on since Sonic the Hedgehog back on the Sega Genesis. If you're looking for a good mix of old sonic style playing with modern sonic aspects, then this game is for you.
Scores
:
Story: 6/10
Graphics: 9/10
Gameplay: 8/10
Music: 7.8/10
Overall Score
: 8.4/10